Nov 13, 2019
3 Things Every Business Needs To Do to Ensure Success
When you browse the internet, you can find hundreds of articles on how to become a successful businessman. With more research, you can find another hundred books on the subject, and a hundred more will be written in the future …
Startup Magazine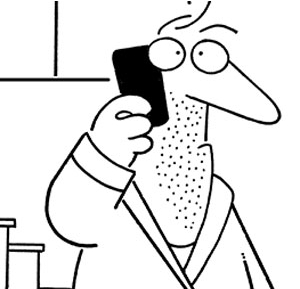 "Please moan into the phone. A nurse will determine if you are too sick to work today or just faking it."


Copyright © Randy Glasbergen
Quote of the Week
"A budget tells us what we can't afford, but it doesn't keep us from buying it."
William Feather
Trivia
The American inventor Douglas Engelbart is best known for inventing which ubiquitous 'clicking' device?
See the answer below.
Rick Munson
Paramount Business
Development, Inc.
745 Main Street
Stroudsburg, PA
The articles in our publications come from many sources. We do not endorse information or opinions appearing in linked articles. The articles selected are not sponsored, and we assume no responsibility for the accuracy of the information. Copyright for linked articles belongs to the linked source.
A Newsletter Station Publication
© All Rights Reserved.
Trivia Answer
The American inventor Douglas Engelbart is best known for inventing which ubiquitous 'clicking' device?
Answer: Computer mouse