Feb 20, 2019
Chiropractic Has Role to Play in Easing Back Pain
Chiropractic care can help ease low back pain when added to a comprehensive treatment plan, a new clinical trial has found. Active-duty military personnel reported having fewer back problems when they visited a chiropractor along ...
Web MD
Is my jaw broken or dislocated?
A broken jaw refers to a fracture of the jawbone or mandible, whereas a dislocated jaw is where the lower part of the jaw moves out ...
Medical News Today
Laird Superfood
Sale on all Laird products through the month of December! Take 10% off.
Also, $5 off for every $50 spent on chiropractic retail through the month of December.
Pure Chiropractic & Spa
What to know about skin ulcers
A skin ulcer is an open wound that develops on the skin as a result of injury, poor circulation, or pressure. Skin ulcers can ...
Medical News Today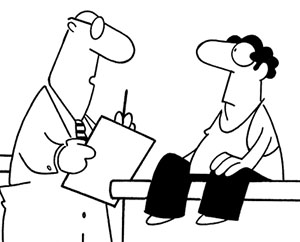 "Stop drinking coffee for a week, then start drinking it again. It's the same effect as rebooting your computer."


Copyright © Randy Glasbergen
Quote of the Week
"Those who think they have no time for exercise will sooner or later have to find time for illness."
Edward Stanley
Trivia
Who invented the Popcicle in 1905?
See the answer below.
Dr. David Pyne
Pure Chiropractic & Spa
18977 Munchy Branch Rd, #3
Rehoboth Beach, DE 19971
302-212-5096
The articles in our publications come from many sources. We do not endorse information or opinions appearing in linked articles. The articles selected are not sponsored, and we assume no responsibility for the accuracy of the information. Copyright for linked articles belongs to the linked source.
A Newsletter Station Publication
© All Rights Reserved.
Trivia Answer
Who invented the Popcicle in 1905?
Answer: Frank Epperson, when he was 11 years old.