Nov 22, 2017
5 Places To Regularly Check Your Dog for Ticks
If you spend time outdoors with your best furry friend, checking him for ticks should be a part of your daily routine. Not only are ticks nasty to look at (and even worse to touch when you pet your pup!), they can transmit ...
The Dogington Post
Natural remedies for arthritic cats
From acupuncture and weight management to nutritional supplements and Reiki, there are many natural ways to help relieve the pain and ...
Animal Wellness Magazine
Behold! Purr-fect furniture for cats
If you're a cat owner, you're no stranger to furniture that has been coated in fur or clawed to shreds as an ad hoc scratching post. Or ...
Mother Nature Network
How Can I Help My Dog Lose Weight?
Every year, we see news stories filled with statistics that reveal that obesity is on the rise. In fact, in many western countries ...
K9 Magazine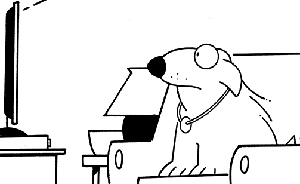 "Ask your doctor if the embarassing head cone is right for you."
Copyright © Randy Glasbergen
Trivia
What animal is the closest living relative to the Tyrannosaurus Rex?
See the answer below.
What Year Was It?
Who Shot J.R.
350 million people around the world tune in to "Dallas" to find out who shot J.R. Ewing who had been shot on the season-ending episode the previous March.
The day was Nov 21. What year was it?
Quote of the Week
"There are two means of refuge from the miseries of life: music and cats."
Albert Schweitzer
Trivia Answer
What animal is the closest living relative to the Tyrannosaurus Rex?
Answer: The chicken
SUBSCRIBE TO OUR NEWSLETTER
NEWSLETTER ARCHIVES