Jan 15, 2020
Can You Prevent Gum Recession?
Gum recession is an uncomfortable condition in which the gum tissue actually begins to pull away from the teeth. You may notice that your teeth look longer, or notice discolored areas between your gumline and your teeth. Receding …
Your Dental Health Resource
Cosmetic Dentistry
Cosmetic dentistry provides a great opportunity for individuals to get a sound and excellent smile transformation from grant winning …
Alternative Medicine
Your patients can win with SMOMS!
Thank you so much for sending patients our way for their Third Molars needs. They have entered their names into a drawing for this gift card. We will be choosing a winner this week, which we will mention on our social media pages.
SMOMS
Don't forget to follow us on social media!
SMOMS
How to avoid tick-borne illnesses
Ticks can be infected with bacteria, viruses, or parasites. Some of the most common tick-borne diseases in the United States include …
Fox News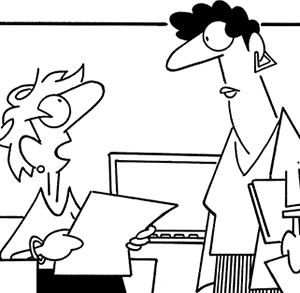 "We're supposed to stop for a mini exercise break twice a day. Do tantrums count?"


Copyright © Randy Glasbergen
Trivia
How many bones does your big toe have?
See the answer below.
Bladder Issues
Numerous ladies, youthful and old, experience the ill effects of bladder issues. These issues range from the …
Alternative Medicine
What Year Was It?
Boston Thieves Pull Off Historic Robbery
11 men steal more than $2 million from the Brinks Armored Car depot in Boston, Massachusetts. It was the perfect crime - almost - as the culprits weren't caught until January 1956, just days before the statute of limitations for the theft expired.
The day was Jan 17. What year was it?
Quote of the Week
"Early to bed and early to rise, makes a man healthy wealthy and wise"
Benjamin Franklin
Trivia Answer
How many bones does your big toe have?
Answer: Two, the rest of your toes have only one.
SUBSCRIBE TO OUR NEWSLETTER
NEWSLETTER ARCHIVES