Feb 14, 2018
Get Serious About Creating a Strategic Succession Plan
I recently suffered the sudden loss of my father, who fell ill following a brief battle with pneumonia. After the grief and recovery from the initial shock of the loss, I had to begin the daunting task of filtering through his ...
Inc.
LOOKING TO SELL YOUR BUSINESS!
Since 1983 Amerivest has been assisting Business Owners achieve their goals.
CONFIDENTIALITY is a must!
No Transaction - No Fee!
Click the heading for the Amerivest Confidential Seller Registration
LOOKING TO BUY A BUSINESS!
Amerivest's Buyside Specialists will help you find the right opportunity. As members of the BBF we have access to thousands of businesses currently for sale.
Click the heading for the Amerivest Confidential Buyer Registration
The 3 Faces of Customer Care
Companies are run by people. Some do a great job of putting the customer first and growing, which ultimately rewards investors. Others ...
E-Commerce Times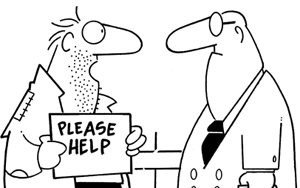 "Who are you calling lazy? I'm on my feet all day, just like a mail carrier, tour guide, waitress or nurse!"


Copyright © Randy Glasbergen
Trivia
From 1983-93, what was 'positively' the defacto national car of Malaysia?
See the answer below.
What Year Was It?
Donner Party Rescued
The first rescuers reach surviving members of the Donner Party, a group of California-bound emigrants stranded by snow in the Sierra Nevada Mountains.
The day was Feb 19. What year was it?
Quote of the Week
"The most dangerous poison is the feeling of achievement. The antidote is to every evening think what can be done better tomorrow."
Ingvar Kamprad, IKEA founder
Trivia Answer
From 1983-93, what was 'positively' the defacto national car of Malaysia?
Answer: Proton
SUBSCRIBE TO OUR NEWSLETTER
NEWSLETTER ARCHIVES