Dec 12, 2018
3 Home Decorating Mistakes to Avoid in 2019
If your home decor leaves a lot to be desired, why not make a resolution to change things up in 2019? Whether it be an extensive home remodeling project or just a new paint color, changing things up can be the perfect way to breathe ...
Handyman Connection
Do I Need a Home Warranty?
Many people confuse a home warranty with homeowner's insurance, but they're actually two very different things. Your homeowner's insurance ...
Handyman Connection
Mountain Streams to Putting Greens
Scrimshaws has the perfect piece of furniture, custom draperies, flooring, fabric, wallpaper and more to offer you timeless design within your budget.
Scrimshaws Ltd.
Useful Utility Room Ideas
The utility room is becoming something of a requirement in the home. Housing a noisy washing machine or tumble dryer in a room separate from ...
Homebuilding & Renovating
10 Times to Hire an Architect
Wondering if it's time to hire an architect? Architects are highly trained, licensed professionals who design buildings and often ...
Houzz
How to Clean and Inspect Your Roof
It's important to clean and inspect your roof regularly, since roof leaks can cause major damage to your home including water damage, rot ...
Today's Home Owner
Pros & Cons of Installing a Walk-In Tub
If you or a family member has mobility issues or is interested in aging in place, a walk-in tub may be a worthwhile investment to consider. With ...
Handyman Connection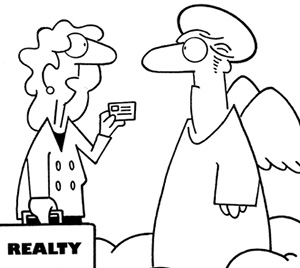 "A nice couple from New Jersey is looking for a cloud just like this one when they die. Have you got a minute to chat?"


Copyright © Randy Glasbergen
Trivia
What was the first territorial acquisition made by the U.S. Government?
See the answer below.
What Year Was It?
Da Vinci Notebook Sells for Over $5 Million
American oil tycoon Armand Hammer pays $5,126,000 at auction for a notebook containing writings by the legendary artist Leonardo da Vinci.
The day was Dec 12. What year was it?
Quote of the Week
"He is the happiest, be he king or peasant, who finds peace in his home."
Johann Wolfgang von Goethe
Trivia Answer
What was the first territorial acquisition made by the U.S. Government?
Answer: The Louisiana Purchase from France in 1803 for $15,000
SUBSCRIBE TO OUR NEWSLETTER
NEWSLETTER ARCHIVES