Feb 12, 2020
4 Home Design Trends to Implement in 2020
With every new year, a new set of home trends comes to the forefront. While you don't want to remodel your whole home based on a whim of style, it is important to be aware of current home design trends to ensure that your home …
RIS Media
Interior Design: 2020 Tips and Trends
Does your home need a fresh look? Have the kids outgrown their bedroom décor? If so, then it's time to think about redecorating …
Prince William Living
Timeless Professional Design
Interior Design-Wallpaper-Fabric-Carpet-Furniture-Drapes-Lamp Repair-Miele Vacuum Cleaners-D.Y.I.
Consulting. From Mt. Streams to Putting Greens. We work within your style, time schedule and budget. 30 Yrs. Experience. Excellent References.
Scrimshaws Ltd.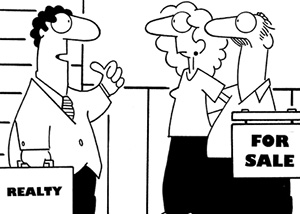 "There are four birdhouses in the backyard. If you make the birds pay rent, the property will pay for itself in no time!"


Copyright © Randy Glasbergen
Quote of the Week
"One returns to the place one came from."
Jean de La Fontaine
Trivia
What do you call a color that has gray added to it?
See the answer below.