Nov 22, 2017
How to Get Health Insurance After Losing Your Job
Several avenues could be a potential source of health insurance after you get laid off: coverage through a spouse's employer, continued coverage from your former employer, COBRA, marketplace health insurance and non-marketplace ...
Investopedia
Why Buying a Timeshare Is a Bad Idea
My wife and I went on vacation to Disney World a couple of years ago. The family had a great time, and I personally was glad to get away ...
Investor Junkie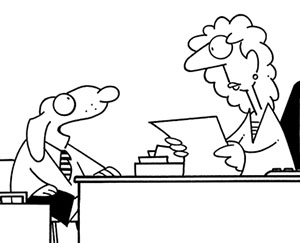 "Who would you rather have on your sales team, Average Joe or someone who can smell money from a mile away?"
Copyright © Randy Glasbergen
Trivia
There is a $1 bill and a $2 bill. How about a $3 bill?
See the answer below.
Save Money Without Really Trying
Kreisler, a lawyer turned humorist and the Editor-in-Chief of PeopleScience.com, is co-author with Dan Ariely of Dollars and Sense ...
Time
What Year Was It?
Who Shot J.R.
350 million people around the world tune in to "Dallas" to find out who shot J.R. Ewing who had been shot on the season-ending episode the previous March.
The day was Nov 21. What year was it?
Quote of the Week
"In all realms of life it takes courage to stretch your limits, express your power, and fulfill your potential... it's no different in the financial realm."
Suze Orman
Trivia Answer
There is a $1 bill and a $2 bill. How about a $3 bill?
Answer: There actually was a $3 bill in the early 1800s, but only a few were ever printed by banks.
SUBSCRIBE TO OUR NEWSLETTER
NEWSLETTER ARCHIVES