Aug 15, 2018
Ways for Everyone to Save Under the New Tax Law
We're living in a new tax world now, thanks to the overhaul passed by Congress last year. A number of breaks bit the dust, but some new ones were introduced as well. Your 2018 return will be the first to file under the new rules, but the time ...
Kiplingers
3 Reasons to Amend a Tax Return
Now that April is well behind us, most folks don't tend to have taxes on the brain. But if it comes to your attention that you made a mistake on the ...
Fox Business
Tax-Saving Tips
Click here to download the August copy of our Tax-Saving Tips newsletter!
Stranger, Tallman & Lautz Accounting
How to Best Use an HSA to Your Benefit
By Brad Sherman via Iris.xyz You've likely heard that having an HSA can help you to lower the cost of your medical care – but studies have shown ...
Fox Business
5 Things To Do With Your Raise Or Bonus
With the economy growing at a rapid pace and unemployment dropping, wages are showing strong increases. According to the Department of Labor, unemployment ...
Forbes
Can You Use Your IRA to Buy a House?
An IRA is a tax-advantaged retirement savings account for individuals set up through a bank or other financial institution, life insurance company ...
Investopedia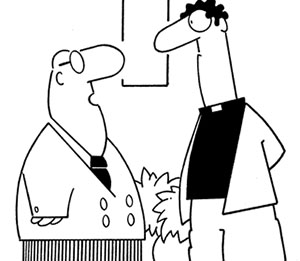 "If I count my blessings and some of them are heavily taxed, do they still count as blessings?"


Copyright © Randy Glasbergen
Trivia
When was the first paper money issued in the colonies?
See the answer below.
What Year Was It?
Woodstock Music Festival Concludes
The grooviest event in music history--the Woodstock Music Festival--draws to a close after three days of peace, love and rock 'n' roll in upstate New York.
The day was Aug 17. What year was it?
Quote of the Week
"It's almost sickening now that the regulators 'on the beat' while the biggest credit collapse in modern financial history unfolded are now patting themselves on the back for their 'brave' stance on short-selling!"
James Chanos
Trivia Answer
When was the first paper money issued in the colonies?
Answer: 1690
SUBSCRIBE TO OUR NEWSLETTER
NEWSLETTER ARCHIVES