Feb 20, 2019
5 Things Great Leaders Do to Motivate Their Employees
Over the years, I have come to realize that the people I regarded as the best in their field were not just ones with an incredible amount of skill sets and work ethic. They had those attributes too of course, but there was something ...
Inc.
Restaurant and Bar Insurance Programs
Specialty insurance programs for restaurants, pubs, casinos cafe's and other hospitality businesses serving alcoholic beverages. We can protect it.
Threshold, Nosh and Dwell - Restaurant Insurance
Hotel and Motel Insurance Program
Even if you do not have a 13th floor, you need to protect yourself from potential bad luck. Whether you own a hotel, motel, spa or resort we offer customized insurance coverage at the best possible price.
Threshold, Nosh and Dwell - Hotel Insurance Program
Solving teething problems in startups
Hitches, challenges, failures, disappointment; these are many more are part and parcel of the human experience that extends to business ...
The Startup Magazine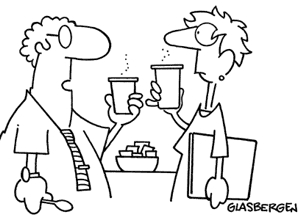 "I was floating in a tunnel toward a very bright light and then a voice told me I had to go back and finish listening to the presentation."


Copyright © Randy Glasbergen
Trivia
In the 1970s, 'The Chicago Boys' were a group of 25 economists working under which South American dictator's administration to create a free market economy?
See the answer below.
What Year Was It?
U.S. Hockey Team Miracle On Ice
In one of the most dramatic upsets in Olympic history, the underdog U.S. hockey team defeats the four-time defending gold-medal winning Soviet team at the XIII Olympic Winter Games in Lake Placid, New York.
The day was Feb 22. What year was it?
Quote of the Week
"Always look for the fool in the deal. If you don't find one, it's you."
Mark Cuban, AXS TV chairman
Trivia Answer
In the 1970s, 'The Chicago Boys' were a group of 25 economists working under which South American dictator's administration to create a free market economy?
Answer: Augusto Pinochet
SUBSCRIBE TO OUR NEWSLETTER
NEWSLETTER ARCHIVES