Nov 13, 2019
6 Unexpected Habits of the Most Confident People
Here's something you know. Being self-confident improves odds of success, whether you're a leader wanting to lead confidently, an entrepreneur, or someone just trying to learn how to deal with criticism. And you know the obvious ways to become more confident such as living with a …
Inc
Can You Name Your Values?
Recently, I went on a hike with the manager of a flourishing start-up. On our hike, he confessed he was uncertain about his future at his …
Forbes
Cyber Insurance for Small Business
Is your business at risk? A data breach can damage more than just your small-business computer system. Want to know more about cyber insurance? Call today or click the link above.
Cyber Insurance for Small Business
We Want to Say Thank You
Our best advertising is never done by us. It's done by you who share our name with you friends, clients and colleagues. Call today or click the link above.
Ask about our Amazon Thank You Program.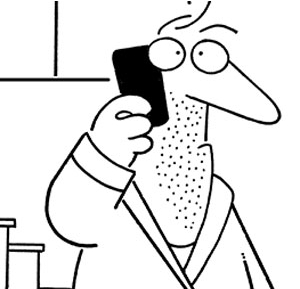 "Please moan into the phone. A nurse will determine if you are too sick to work today or just faking it."


Copyright © Randy Glasbergen
Trivia
The American inventor Douglas Engelbart is best known for inventing which ubiquitous 'clicking' device?
See the answer below.
Best Business Books 2019
How do you get to the commanding heights? It is pretty rare for an article in this publication to lead …
strategy+business
What Year Was It?
Ellis Island Closes
Ellis Island, the gateway to America, shuts it doors after processing more than 12 million immigrants since opening in 1892.
The day was Nov 12. What year was it?
Quote of the Week
"A budget tells us what we can't afford, but it doesn't keep us from buying it."
William Feather
Trivia Answer
The American inventor Douglas Engelbart is best known for inventing which ubiquitous 'clicking' device?
Answer: Computer mouse
SUBSCRIBE TO OUR NEWSLETTER
NEWSLETTER ARCHIVES