Apr 1, 2020
10 Tips for Conducting Productive Virtual Meetings
Despite the COVID-19 pandemic shaking up our world right now, business owners, employees, and stakeholders still need to have meetings, maybe now more than ever. Here are 10 tips on how to conduct effective meetings virtually …
All Business
Insurance for Hotels and Motels
When you're in the hospitality industry, the right insurance coverage is crucial to keeping your property and staff protected. Call today or click the link above.
Insurance for Hotels and Motels
High Value Auto and Home Insurance
Many families find themselves here. Our customized coverage make it easy and affordable to get insurance for your where you live and what you do. Call today or click the link above.
High Value Auto and Home Insurance
Why You Should Become an "Intrapreneur"
If you answered "yes" to these questions, you are probably already job crafting, which is defined as the ability to make your job …
Harvard Business Review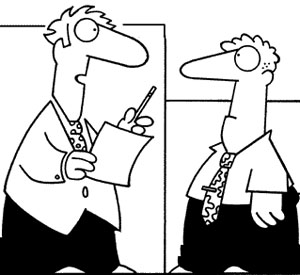 "The reorganization still needs some fine tuning. Until further notice, you're a fern in our reception area."


Copyright © Randy Glasbergen
Quote of the Week
"The growth and development of people is the highest calling of leadership."
Harvey S. Firestone
Trivia
On a hunting trip in the Alps in 1941, George de Mestral was intrigued by burdock burrs (seeds) that kept sticking to his clothes and his dog's fur. After subsequent observations and trials, what did he invent?
See the answer below.
Gerald Grinter
Threshold, Nosh and Dwell
800 Fifth Ave. Suite 4100
Seattle WA 98104
206.447.1387
The articles in our publications come from many sources. We do not endorse information or opinions appearing in linked articles. The articles selected are not sponsored, and we assume no responsibility for the accuracy of the information. Copyright for linked articles belongs to the linked source.
A Newsletter Station Publication
© All Rights Reserved.
Trivia Answer
On a hunting trip in the Alps in 1941, George de Mestral was intrigued by burdock burrs (seeds) that kept sticking to his clothes and his dog's fur. After subsequent observations and trials, what did he invent?
Answer: Velcro