Nov 22, 2017
Clearing Corners in Home Defense
Chances are you pass dozens of corners each day. Each corner in your home represents a potential problem, because bad things can hide behind them. In a home-defense scenario, the best way to deal with a corner is to avoid ...
CWP101
Top 5 Mistakes Most Riflemen Make
As much as we riflemen pride ourselves in our shooting abilities, we've all made mistakes along the road—me especially. From developing ...
American Hunter
Hypothermia: What You Need to Know
Periodic snow flurries were a welcome relief from the ice and freezing rain that coated the trail with a perilous polish. A little ...
NRA Family
Prying Eyes, Prying Hands
I used to enjoy Kevin Spacey's movie and television roles: LA Confidential, The Usual Suspects, Midnight in the Garden of Good ...
USCCA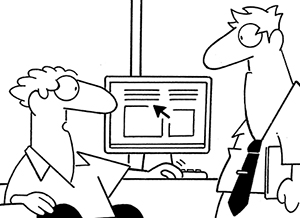 "Millions of years of evolution and man still hunts with a spear."
Copyright © Randy Glasbergen
Trivia
What U.S. military branch was responsible for exploring and mapping America?
See the answer below.
What Year Was It?
Who Shot J.R.
350 million people around the world tune in to "Dallas" to find out who shot J.R. Ewing who had been shot on the season-ending episode the previous March.
The day was Nov 21. What year was it?
Quote of the Week
At the end of the day, the goals are simple: safety and security.
Jodi Rell
Trivia Answer
What U.S. military branch was responsible for exploring and mapping America?
Answer: U.S. Army
SUBSCRIBE TO OUR NEWSLETTER
NEWSLETTER ARCHIVES