Dec 12, 2018
How to Get Out of Your Comfort Zone
Have you ever pursued an ambitious goal only to find yourself sabotaging your success? Join bestselling author and Entrepreneur Network partner Ben Angel in this video from his powerful 12-part 60-Seconds to Unstoppable series ...
Entrepreneur
Getting Started with Team Coaching
A number of years back I was asked by a coaching client of mine, the CEO of a medium-sized company, to coach himself, the sales director ...
Worldwide Coaching Magazine
Leadership Training
3 Part Small Group Leadership and Management Training. Contact Coach Thom for more details at 717-215-4277, or thom@coachthom.net.
Free New Business Workshop
November 13th from 4:30-6:00
Know your numbers
How to price
Cash flow template
Call Kristen to register 570-704-5358
Why Your Next Deal May Be a Partnership
When Amazon, Berkshire Hathaway, and JPMorgan Chase announced a new alliance in early 2018, the partnership turned heads. Three companies ...
Strategy + Business
Why Your Network Is Your Net Worth
Mark D. Friedman has dedicated his life to cultivating and nurturing relationships. For more than 32 years, Friedman has been part of the New ...
Entrepreneur
A New Way To Find A Financial Planner
Can you recommend a good financial planner? is among the most common questions I've received over the years writing on personal finance. Problem ...
Forbes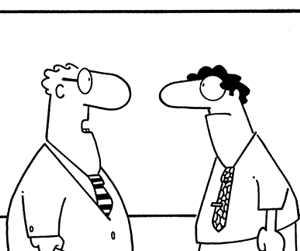 "We are a company, not a military organization. Making you watch a PowerPoint is not a violation of the Geneva Convention!"


Copyright © Randy Glasbergen
Trivia
What was megacorporation IBM known as before its name was changed in 1924?
See the answer below.
What Year Was It?
Da Vinci Notebook Sells for Over $5 Million
American oil tycoon Armand Hammer pays $5,126,000 at auction for a notebook containing writings by the legendary artist Leonardo da Vinci.
The day was Dec 12. What year was it?
Quote of the Week
"Timing, perseverance, and ten years of trying will eventually make you look like an overnight success."
Biz Stone, Twitter co-founder
Trivia Answer
What was megacorporation IBM known as before its name was changed in 1924?
Answer: C-T-R, for computing-tabulating-Recording Company
SUBSCRIBE TO OUR NEWSLETTER