Oct 21, 2020
Tips to Stay Productive in Turbulent Times
I am a mindfulness expert. I'm founding partner of a company called Mindful. I've devoted the past decade of my personal and professional life to building the skill of focused attention. And yet I have a confession to make. In …
Inc.
Indianola Chamber of Commerce
Indianola Chamber of Commerce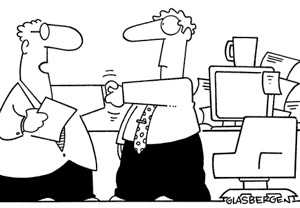 "Congratulations, Bob... you've won a Pulitzer Prize for excuses."


Copyright © Randy Glasbergen
Quote of the Week
"Almost all quality improvement comes via simplification of design, manufacturing... layout, processes, and procedures."
Tom Peters
Trivia
Which 400-year-old German dynasty from Essen is known for the industrial production of steel and armaments and has been known as the 'Arsenal of the Reich'?
See the answer below.
Brenda Easter
Executive Director
Indianola Chamber of Commerce
111 N. Buxton, Suite 117
515-961-6269
The articles in our publications come from many sources. We do not endorse information or opinions appearing in linked articles. The articles selected are not sponsored, and we assume no responsibility for the accuracy of the information. Copyright for linked articles belongs to the linked source.
A Newsletter Station Publication
© All Rights Reserved.
Trivia Answer
Which 400-year-old German dynasty from Essen is known for the industrial production of steel and armaments and has been known as the 'Arsenal of the Reich'?
Answer: Krupp family