Oct 9, 2019
Save for retirement in your 40s, 50s, and 60s
It's not too late to start saving for retirement. Thirty-seven percent of all employees age 35 to 44, and 34 percent of employees age 45 to 54 have less than $1,000 saved for retirement, according to the Employee …
Fox Business
8 Ways To Make Your Money Greener
Teenage Swedish climate activist Greta Thunberg grabbed headlines in the U.S. last month when she traveled to the 2019 UN Climate Action …
Forbes
First-Time Home Buyers
We have the most No Money Down Options in the Nation! This means lower out-of-pocket expenses and monthly payments (even if turned down before). Qualify with our Pre-Approval Quiz in 60-Seconds.
Service Deserves its Rewards!
Firefighters, law enforcement, healthcare workers, military and teachers qualify for a Homes for Heroes Rebate with Summit Lending!
Homes for Heroes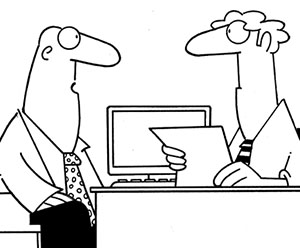 "Can I write off last year's taxes as a bad investment?"


Copyright © Randy Glasbergen
Trivia
Fill in the blank: Calvin Coolidge once said: "The _______ of America is business". Bridesmaid, backbone, business
See the answer below.
How to Avoid Emotional Investing
Active monitoring of a portfolio is important for navigating the changing tides of financial markets. Still, it is also …
Investopedia
What Year Was It?
Jimmy Carter Wins Nobel Prize
Former President Jimmy Carter wins the Nobel Peace Prize "for his decades of untiring effort to find peaceful solutions to international conflicts, to advance democracy and human rights, and to promote economic and social development."
The day was Oct 11. What year was it?
Quote of the Week
"Beware of small expenses; a small leak will sink a great ship."
Benjamin Franklin
Trivia Answer
Fill in the blank: Calvin Coolidge once said: "The _______ of America is business". Bridesmaid, backbone, business
Answer: Business
SUBSCRIBE TO OUR NEWSLETTER
NEWSLETTER ARCHIVES