Aug 4, 2021
Estate Planning Checkup
Even though it's critical for your assets, family and legacy, estate planning tends to fall to the bottom of people's to-do lists. What new parent wants to draft a will while finalizing a nursery paint color? Who wants to talk …
Kiplinger
How to Read Your Credit Report
If you're like a lot of people, whenever you make a money misstep, your first thought is something along the lines of, "Oh no, what …
Money
New Payroll Accounts
Experience how Down to Basics Payroll can make your business, and life, run smoother. We are offering the first two months free for any new payroll account.


Why Saving Money is Important
If you don't earn much and you can barely pay your bills, the idea of saving money might seem laughable. When you only have $5 left at …
Investopedia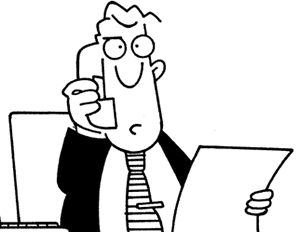 "Our terms are net 30 days. If you don't pay after 30 days, we come after you with a net!"


Copyright © Randy Glasbergen
Quote of the Week
"While no amount of financial wealth can guarantee an experience of prosperity, it is possible to experience prosperity at almost any level of income, except when we are unable to meet our basic physical needs."
Shakti Gawain
Trivia
When was the first paper money issued in the colonies?
See the answer below.
Down To Basics Payroll | 300 Main Street, Suite 214 | Youngstown, PA 15696
Thomas Bobik
President
Down To Basics Payroll
300 Main Street
Youngstown, PA
The articles in our publications come from many sources. We do not endorse information or opinions appearing in linked articles. The articles selected are not sponsored, and we assume no responsibility for the accuracy of the information. Copyright for linked articles belongs to the linked source.
Trivia Answer
When was the first paper money issued in the colonies?
Answer: 1690
A Newsletter Station Publication
© All Rights Reserved.