May 22, 2019
How Entrepreneur Beat Burnout
Entrepreneurs are renowned for their drive and determination to see things through against all the odds, but the pressure that results can be relentless and lead to physical and mental burnout. The early days of starting are ...
Forbes
Out-think, Out-market and Out-Sell Your Competition!
SHOCK uses proven strategies to increase 5 key areas of business
*Substantially increase leads
*Heighten conversions from prospect to customer
*Optimize & increase transactions per person
*Cost reduction
*Keep creating new ancillary revenue programs
S.H.O.C.K. Strategic Marketing
GEO-LOCATION MARKETING
YOUR DIGITAL AD IS PUT ACROSS OVER ONE MILLION APPS AND WEBSITES TO TARGET THOUSANDS OF YOUR PROSPECTS.
THE MOST COST EFFECTIVE WAY TO REACH YOUR TARGET MARKET & RECEIVE THE HIGHEST ROI POSSIBLE. LESS THAN 1 PENNY PER IMPRESSION. AVG. ROI is 5%-9%.
Mobile-Based Advertising & Target Marekting
What Good Feedback Really Looks Like
According to a recent Harvard Business Review cover story, it's rarely useful to give feedback to colleagues. The authors argue ...
Harvard Business Review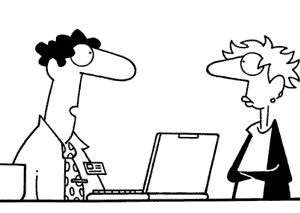 "What software would you recommend to give my presentation so much flash and sizzle that nobody notices that I have nothing to say?"


Copyright © Randy Glasbergen
Quote of the Week
"Great companies are built on great products."
Elon Musk
Trivia
To celebrate its one-hundredth anniversary in 1860, what did the Lorillard Company put at random in packages of it Century brand of tobacco?
See the answer below.
Tim Wesley
S.H.O.C.K. Strategic Marketing
Your Marketing Coach
Phone: 800-714-6067
Email: twesley@shockmybusiness.com
The articles in our publications come from many sources. We do not endorse information or opinions appearing in linked articles. The articles selected are not sponsored, and we assume no responsibility for the accuracy of the information. Copyright for linked articles belongs to the linked source.
A Newsletter Station Publication
© All Rights Reserved.
Trivia Answer
To celebrate its one-hundredth anniversary in 1860, what did the Lorillard Company put at random in packages of it Century brand of tobacco?
Answer: $100 bills