Feb 20, 2019
Why Should You Visit an Orthodontist?
Crooked teeth may make you embarrassed to an extent that you cover your mouth when laughing. Other people will never smile no matter how happy they are because they don't have well-positioned and aligned teeth. You can boost ...
Alternative Medicine Magazine
Is my jaw broken or dislocated?
A broken jaw refers to a fracture of the jawbone or mandible, whereas a dislocated jaw is where the lower part of the jaw moves out ...
Medical News Today
GUM DISEASE AND PREGNANCY
Many people do not know that oral health can suffer because of pregnancy AND that pregnancy can be complicated by poor oral health. An interesting connection! Any extra bacteria in your system caused by periodontal disease....
Charles A. Clements, D.D.S
GUM DISEASE LINKED WITH DEADLY PANCREATIC CANCER
That is right! As reported in the January 23, 2009 edition of the Wall Street Journal, a recent report from Harvard researchers found a powerful link between poor gum health and one of the deadliest diseases, pancreatic.....
Charles A. Clements, D.D.S
What to know about skin ulcers
A skin ulcer is an open wound that develops on the skin as a result of injury, poor circulation, or pressure. Skin ulcers can ...
Medical News Today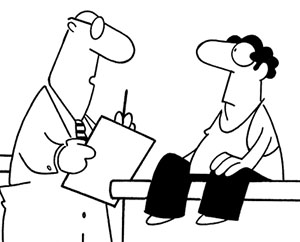 "Stop drinking coffee for a week, then start drinking it again. It's the same effect as rebooting your computer."


Copyright © Randy Glasbergen
Trivia
Who invented the Popcicle in 1905?
See the answer below.
Good and bad cholesterol
If your doctor has told you that you need to lower your cholesterol, failing to do so could adversely affect your health, so you need ...
Alternative Medicine
What Year Was It?
Malcolm X Assassinated
Malcolm X, an African American nationalist and religious leader, is assassinated by rival Black Muslims while addressing his Organization of Afro-American Unity.
The day was Feb 21. What year was it?
Quote of the Week
"Those who think they have no time for exercise will sooner or later have to find time for illness."
Edward Stanley
Trivia Answer
Who invented the Popcicle in 1905?
Answer: Frank Epperson, when he was 11 years old.
SUBSCRIBE TO OUR NEWSLETTER
NEWSLETTER ARCHIVES