Jun 12, 2019
What Are the Different Types of Dental Fillings?
Dental fillings are restorations used to fill in the area where cavities have damaged teeth. Your dentist will remove the decayed tissue from the tooth and fill in the missing area with a restoration. Dentists have used fillings ...
Your Dentail Health Resource
Healthy Smile, Healthy Body!
This book helps you make an informed decision about some of the forms of treatment to restore your oral health, and discuss ways to care for your teeth.
Gregory LaMorte DDS, Author
How to Cope with Seasonal Depression
Maybe the changing of seasons was a time you once looked forward to. But as you grow older, everyday stresses can become something more ...
Alternative Medicine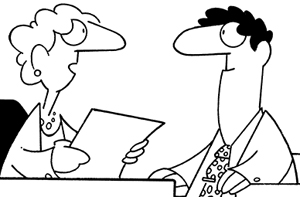 "We're a green company. I like the part where you describe yourself as biodegradable, organic and locally grown."


Copyright © Randy Glasbergen
Trivia
What is the fastest growing hair on the human body?
See the answer below.
How to Get Through a Panic Attack
If you've ever had a panic attack, you know that the experience can be more terrifying than anything has a right to be. It's easy ...
Self
What Year Was It?
Statue of Liberty Arrives
The Statue of Liberty, a gift of friendship from the people of France to the people of the United States, arrives in New York City's harbor.
The day was Jun 17. What year was it?
Quote of the Week
Do antibiotics kill viruses?

Trivia Answer
What is the fastest growing hair on the human body?
Answer: Beards
SUBSCRIBE TO OUR NEWSLETTER
NEWSLETTER ARCHIVES