Dec 11, 2019
Should You Brush or Floss Your Teeth First?
There are three types of oral hygiene people in this world: Those who floss religiously, just like their dentists taught them; those who only floss when there's something noticeably stuck between their teeth; and those who never …
Allure
Healthy Smile, Healthy Body!
This book helps you make an informed decision about some of the forms of treatment to restore your oral health, and discuss ways to care for your teeth.
Gregory LaMorte DDS, Author
Psoriasis: Symptoms and Causes
Psoriasis is an inflammatory skin problem that usually manifests as plaques and erythematous papules covered with silvery scales. The …
Alternative Medicine
How to Stay Healthy During the Holidays
Stay moving: This doesn't always have to mean going to the gym. Maybe you don't have access to your regular facility. Try bundling …
Inspire Health Magazine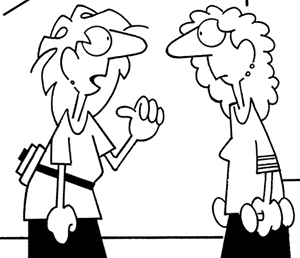 "it's a smoke detector. It tells me if I'm exercising hard enough to burn fat!"


Copyright © Randy Glasbergen
Quote of the Week
"If you're happy, if you're feeling good, then nothing else matters."
Robin Wright
Trivia
When were Fortune Cookies invented?
See the answer below.
Gregory LaMorte, DDS
202 South Orange Ave
South Orange, NJ 07079
Make An Appointment
Phone: 973-762-1881
The articles in our publications come from many sources. We do not endorse information or opinions appearing in linked articles. The articles selected are not sponsored, and we assume no responsibility for the accuracy of the information. Copyright for linked articles belongs to the linked source.
A Newsletter Station Publication
© All Rights Reserved.
Trivia Answer
When were Fortune Cookies invented?
Answer: In 1916 by George Jung, a Los Angeles noodle maker.