Oct 21, 2020
Yes, You Can Brush Your Teeth Too Much
I was so ready to brag to my dentist about my new work-from-home perk: getting to brush my teeth right after every snack and meal — until I discovered it's not the best dental health habit. That plot twist is courtesy of E …
Popsugar
Healthy Smile, Healthy Body!
This book helps you make an informed decision about some of the forms of treatment to restore your oral health, and discuss ways to care for your teeth.
Gregory LaMorte DDS, Author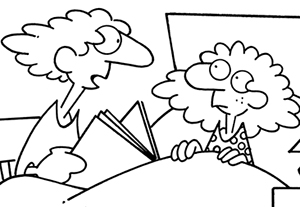 "Cinderella lived happily ever after until a plastic surgeon made her look sort of like a cat."


Copyright © Randy Glasbergen
Quote of the Week
"Early to bed and early to rise makes a man healthy, wealthy and wise."
Benjamin Franklin
Trivia
Dean Kamen, the inventor of which self-balancing transportation device said "walking is a remnant of the Dark Ages, an unpleasant time-waster that technology needs to eradicate"?
See the answer below.
Gregory LaMorte, DDS
202 South Orange Ave
South Orange, NJ 07079
Make An Appointment
Phone: 973-762-1881
The articles in our publications come from many sources. We do not endorse information or opinions appearing in linked articles. The articles selected are not sponsored, and we assume no responsibility for the accuracy of the information. Copyright for linked articles belongs to the linked source.
A Newsletter Station Publication
© All Rights Reserved.
Trivia Answer
Dean Kamen, the inventor of which self-balancing transportation device said "walking is a remnant of the Dark Ages, an unpleasant time-waster that technology needs to eradicate"?
Answer: Segway