Jun 12, 2019
I trained myself to be creative by doing these 9 things
The word "creativity" often evokes visions of the artist at work—a painter splashing color on a canvas or a writer drafting the next great novel. These images do represent a certain kind of creativity, but they can also be limiting ...
Fast Company
What an Executive Coach Can Do?
Many Fortune 500 companies provide coaching services at multiple Management levels, reporting increased sales and profits and improved executive satisfaction.
Oscar Apac
Take your sales to the next level!
Our sales consulting services help clients implement processes and disciplines to drive sustainable revenue acceleration, by providing comprehensive results-driven consulting.
Oscar Apac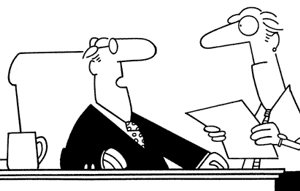 "If you must know, I work for minimum wage! For a CEO, minimum wage is $750 an hour."


Copyright © Randy Glasbergen
Trivia
New York businessman Arnold Rothstein is widely reputed to have been behind what major sports scandal in the early part of the 20th century?
See the answer below.
Winning with a data-driven strategy
The entire ethos of Spanish hotel chain Ilunion is built on innovation, and its most powerful tool for solving problems is now ...
Strategy + Business
What Year Was It?
Statue of Liberty Arrives
The Statue of Liberty, a gift of friendship from the people of France to the people of the United States, arrives in New York City's harbor.
The day was Jun 17. What year was it?
Quote of the Week
"The opportunity is often lost by deliberating."
Publilius Syrus
Trivia Answer
New York businessman Arnold Rothstein is widely reputed to have been behind what major sports scandal in the early part of the 20th century?
Answer: Baseball's Black Sox scandal
SUBSCRIBE TO OUR NEWSLETTER
NEWSLETTER ARCHIVES