Oct 21, 2020
Tips to Stay Productive in Turbulent Times
I am a mindfulness expert. I'm founding partner of a company called Mindful. I've devoted the past decade of my personal and professional life to building the skill of focused attention. And yet I have a confession to make. In …
Inc.
Are they pulling in the same direction?
Often, personalities in the workplace are the source of frustration, anxiety, anger and unmet expectations creating unnecessary agitation.

We can help with that.
Tydeman Dolen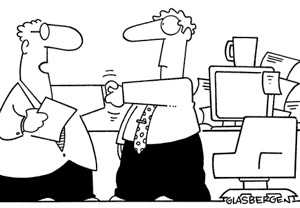 "Congratulations, Bob... you've won a Pulitzer Prize for excuses."


Copyright © Randy Glasbergen
Quote of the Week
"Almost all quality improvement comes via simplification of design, manufacturing... layout, processes, and procedures."
Tom Peters
Trivia
Which 400-year-old German dynasty from Essen is known for the industrial production of steel and armaments and has been known as the 'Arsenal of the Reich'?
See the answer below.