Mar 25, 2020
10 Tips for Conducting Productive Virtual Meetings
Despite the COVID-19 pandemic shaking up our world right now, business owners, employees, and stakeholders still need to have meetings, maybe now more than ever. Here are 10 tips on how to conduct effective meetings virtually …
All Business
Are you hiring the "right fit"?
Many pegs can fit in a square hole, but are they the "right fit"?

For the position, team and manager?

Contact us to learn how to define your right fit!

Tydeman Dolen
Do your people match your core values?
Are core values important? Self-awareness? EQ?

John Maxwell is the # 1 leadership and personal development expert in the world.

Talk to an experienced coach.
The John Maxwell Team
Why You Should Become an "Intrapreneur"
If you answered "yes" to these questions, you are probably already job crafting, which is defined as the ability to make your job …
Harvard Business Review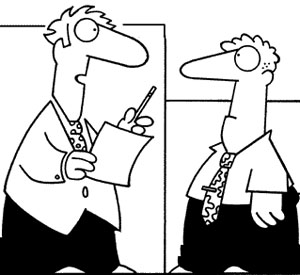 "The reorganization still needs some fine tuning. Until further notice, you're a fern in our reception area."


Copyright © Randy Glasbergen
Quote of the Week
"The growth and development of people is the highest calling of leadership."
Harvey S. Firestone
Trivia
On a hunting trip in the Alps in 1941, George de Mestral was intrigued by burdock burrs (seeds) that kept sticking to his clothes and his dog's fur. After subsequent observations and trials, what did he invent?
See the answer below.
Pat Dolen
John Maxwell Coach
HR Consultant
Phone: 713.851.4677
www.yourdreamteam.biz
The articles in our publications come from many sources. We do not endorse information or opinions appearing in linked articles. The articles selected are not sponsored, and we assume no responsibility for the accuracy of the information. Copyright for linked articles belongs to the linked source.
A Newsletter Station Publication
© All Rights Reserved.
Trivia Answer
On a hunting trip in the Alps in 1941, George de Mestral was intrigued by burdock burrs (seeds) that kept sticking to his clothes and his dog's fur. After subsequent observations and trials, what did he invent?
Answer: Velcro