Oct 21, 2020
Tips to Stay Productive in Turbulent Times
I am a mindfulness expert. I'm founding partner of a company called Mindful. I've devoted the past decade of my personal and professional life to building the skill of focused attention. And yet I have a confession to make. In …
Inc.
Can Business Coaching Help You?
Owners juggle many parts of a business: marketing, sales, operations, HR, customer service, quality. It's no wonder that many don't focus "on" the business. Are you so overwhelmed with working "in" the business that you can't work "on" the business?
Weaver Business Coaching
What is PI?
Predictive Index solutions are just some of the tools we use to maximizing client results. Click here to learn more and try PI.
PI Certified Partner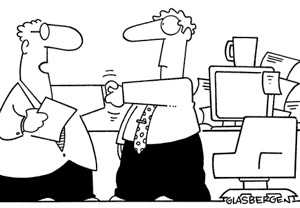 "Congratulations, Bob... you've won a Pulitzer Prize for excuses."


Copyright © Randy Glasbergen
Quote of the Week
"Almost all quality improvement comes via simplification of design, manufacturing... layout, processes, and procedures."
Tom Peters
Trivia
Which 400-year-old German dynasty from Essen is known for the industrial production of steel and armaments and has been known as the 'Arsenal of the Reich'?
See the answer below.