September 20, 2023
The Importance of Continuous Learning
In today's rapidly evolving world, continuous learning has become more than formal education. It's now a lifelong journey beyond classrooms and textbooks, crucial for personal growth. Embracing change it equips individuals to …
The Growth Coach - Shepelak
Why Coaching?
● Continuous Improvement & Capacity Growth
● Optimize Business, Life, & Self
● Grow Performance, Results, & Capacity
● Be Fulfilled & Enjoy Life More
● Experience a High ROI in Business & Life
● Reduce Business & Life Risk
● Strengthen Team and Interpersonal Effectiveness
● Improve Retention and Culture


Coaching Options
1-on-1 Executive Coaching


Group/Team Coaching Options:


● Transformational Leadership Development Program
● Continuous Improvement Program (Business & Life Optimization)
● Sales Mastery Program
● WOW! Customer Experience Program
● Customized Programs
● Leadership & Team Assessments


When leaders stand up for their teams
The article discusses the importance of leaders standing up for their teams takes center stage. The piece highlights how effective …
People Matters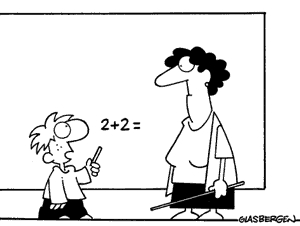 "Do you want my answer in school math or corporate math?"


Copyright © Randy Glasbergen
First Kennedy-Nixon Debate
For the first time in U.S. history, a debate between major party presidential candidates is shown on television. John F. Kennedy, a Democratic senator of Massachusetts, and Richard M. Nixon, the vice president of the United States, met to discuss U.S. domestic matters.
The day was Sep 26. What year was it?
Quote of the Week
"A budget tells us what we can't afford, but it doesn't keep us from buying it."
William Feather
Trivia
In a slogan that became popular in Costa Rica, it is claimed that which advertising character prefers that country's coffee implying his preference over Colombian coffee?
See the answer below.