Oct 20, 2021
Are You Burned Out? Or Is It Something Else?
Feeling a little bit disengaged at work is not only common; it's normal. Whether we're experiencing pressure from a looming deadline, tension from a strained work relationship, or compounding stress from a myriad of work …
Harvard Business Review
Why Coaching?
● Continuous Improvement & Capacity Growth
● Optimize Business, Life, & Self
● Grow Performance, Results, & Capacity
● Be Fulfilled & Enjoy Life More
● Experience a High ROI in Business & Life
● Reduce Business & Life Risk


Coaching Options
1-on1 & Group/Team Coaching Options:
● Transformational Leadership Development Program
● Continuous Improvement Program (Business & Life Optimization)
● Sales Mastery Program
● WOW! Customer Experience Program
● Customized Programs
● Leadership & Team Assessments


A transactional approach to power
Transactional has become something of a dirty word in the business world. It suggests a short-term, one-off mindset and a commoditized …
Strategy+Business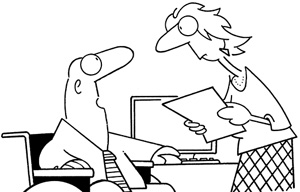 "I'm not disabled or differently-abled or specially-abled or exceptionally-abled. I'm an accountant in a wheelchair."


Copyright © Randy Glasbergen
Quote of the Week
"Success is going from failure to failure without loss of enthusiasm."
Winston Churchill
Trivia
In economics, what type of commodity is a Giffen good which violates a cardinal law?
See the answer below.
The Growth Coach | 7728 Anderson Oaks Drive | Cincinnati, OH 45255
Tim Shepelak
The Growth Coach
Cincinnati OH
Phone: 513-405-2421
The articles in our publications come from many sources. We do not endorse information or opinions appearing in linked articles. The articles selected are not sponsored, and we assume no responsibility for the accuracy of the information. Copyright for linked articles belongs to the linked source.
Trivia Answer
In economics, what type of commodity is a Giffen good which violates a cardinal law?
Answer: Something that people consume more of when its price increases, violating the law of demand.
A Newsletter Station Publication
© All Rights Reserved.