Oct 21, 2020
Tips to Stay Productive in Turbulent Times
I am a mindfulness expert. I'm founding partner of a company called Mindful. I've devoted the past decade of my personal and professional life to building the skill of focused attention. And yet I have a confession to make. In …
Inc.
Coaching Options
As an eighteen-year veteran coach, I leverage my CEO experience and proprietary intellectual property to provide clients with a superior ROI and risk reduction. Big impact, little time investment. Learn more...
Tim Shepelak, The Growth Coach
Why Coaching?
Build executive and organizational capacity, to optimize: Results, both current and future, Resource Utilization, Risk Management, Shareholder Value, Relationships, Life Experiences and Fulfillment. Learn more ...
Tim Shepelak, The Growth Coach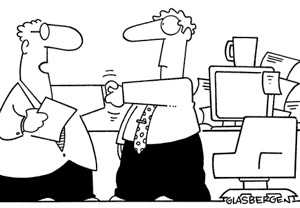 "Congratulations, Bob... you've won a Pulitzer Prize for excuses."


Copyright © Randy Glasbergen
Quote of the Week
"Almost all quality improvement comes via simplification of design, manufacturing... layout, processes, and procedures."
Tom Peters
Trivia
Which 400-year-old German dynasty from Essen is known for the industrial production of steel and armaments and has been known as the 'Arsenal of the Reich'?
See the answer below.