Feb 20, 2019
5 Things Great Leaders Do to Motivate Their Employees
Over the years, I have come to realize that the people I regarded as the best in their field were not just ones with an incredible amount of skill sets and work ethic. They had those attributes too of course, but there was something ...
Inc.
My Coaching Options
As a fifteen-year veteran coach, I leverage my CEO experience and proprietary intellectual property to provide clients with a superior ROI and risk reduction.
Tim Shepelak, The Growth Coach
Why Coaching?
Build executive and organizational capacity, to optimize: Results, both current and future, Resource utilization, Risk management, Shareholder value, Relationships, Life experiences and fulfillment. Learn more ...
Tim Shepelak, The Growth Coach
Solving teething problems in startups
Hitches, challenges, failures, disappointment; these are many more are part and parcel of the human experience that extends to business ...
The Startup Magazine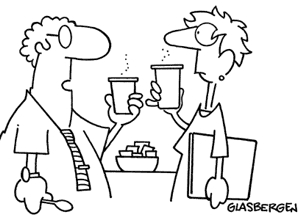 "I was floating in a tunnel toward a very bright light and then a voice told me I had to go back and finish listening to the presentation."


Copyright © Randy Glasbergen
Quote of the Week
"Always look for the fool in the deal. If you don't find one, it's you."
Mark Cuban, AXS TV chairman
Trivia
In the 1970s, 'The Chicago Boys' were a group of 25 economists working under which South American dictator's administration to create a free market economy?
See the answer below.