Feb 14, 2018
Today's Sponsors
Envirofoam Technologies, Inc
82 Columbia Avenue
912-721-2001

Sam's Club
95 Mathews Drive
843-681-7100
10 Reasons To Become A Member
Networking... Relationship... Reach... Discover ten reasons why membership in the Bluffton Chamber of Commerce will benefit you and your business.
Bluffton Chamber of Commerce
The 3 Faces of Customer Care
Companies are run by people. Some do a great job of putting the customer first and growing, which ultimately rewards investors. Others ...
E-Commerce Times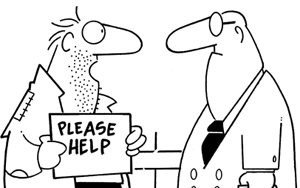 "Who are you calling lazy? I'm on my feet all day, just like a mail carrier, tour guide, waitress or nurse!"


Copyright © Randy Glasbergen
Trivia
From 1983-93, what was 'positively' the defacto national car of Malaysia?
See the answer below.
What Year Was It?
Donner Party Rescued
The first rescuers reach surviving members of the Donner Party, a group of California-bound emigrants stranded by snow in the Sierra Nevada Mountains.
The day was Feb 19. What year was it?
Quote of the Week
"The most dangerous poison is the feeling of achievement. The antidote is to every evening think what can be done better tomorrow."
Ingvar Kamprad, IKEA founder
Trivia Answer
From 1983-93, what was 'positively' the defacto national car of Malaysia?
Answer: Proton
SUBSCRIBE TO OUR NEWSLETTER
NEWSLETTER ARCHIVES