Dec 12, 2018
Your Guide to 2018 Federal Income Taxes
Filing your federal income tax return can be a stressful and complicated task. Even if you hire a professional tax preparer, you still need to make sure you have all of your ducks in a row. So we've put together this handy guide ...
Investor Junkie
IRS Audit Red Flags for Retirees
In 2017, the Internal Revenue Service audited only 0.60% of all individual tax returns, and the vast majority of these exams were conducted ...
Kiplingers
Need Assistance With Tax Planning?
We've got you and your business goals and objectives in mind. All your tax planning needs are in expert hands. Bookkeeping... Accounting... Tax ...
Sand Dollar Accounting
Accounting Help When It's Needed
We're here to help you with accounting and tax planning so you can work on reaching your goals and dreams. Bookkeeping... Accounting... Tax ...
Sand Dollar Accounting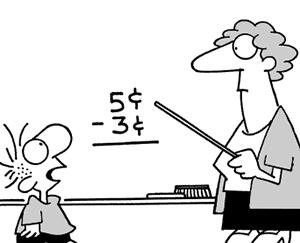 "Thanks, but I'd rather get my finacial advice off the Internet."


Copyright © Randy Glasbergen
Trivia
When was Abraham Lincoln's face engraved on the penny?
See the answer below.
Here's Why I Don't Want to Retire Early
Many people dream of early retirement Opens a New Window. , whether that means leaving their jobs in their late 40s, mid-50s, or at the very ...
Fox Business
What Year Was It?
Da Vinci Notebook Sells for Over $5 Million
American oil tycoon Armand Hammer pays $5,126,000 at auction for a notebook containing writings by the legendary artist Leonardo da Vinci.
The day was Dec 12. What year was it?
Quote of the Week
"Try to save something while your salary is small; it's impossible to save after you begin to earn more."
Jack Benny
Trivia Answer
When was Abraham Lincoln's face engraved on the penny?
Answer: 1909
SUBSCRIBE TO OUR NEWSLETTER
NEWSLETTER ARCHIVES