Sep 27, 2017
10 fall safety tips for pet parents
Autumn is beautiful. Earthy smells, refreshing temperatures and vibrant colors create the perfect environment for long walks with our canine companions. But pet parents beware! Halloween isn't the only thing to fear ...
Animal Wellness Magazine
The Common Symptom of Many Pet Disorders
Dogs and cats (especially cats) are wired to sleep somewhere in the neighborhood of 10 to 12 hours a day, and require even more shut-eye as they age. This is why it may seem as though every time you lay eyes on your furry companion ...
Healthy Pets
Does your dog have Cushing's disease?
If your dog has been diagnosed with Cushing's disease, he's not alone. This increasingly common condition is caused by an overactive ...
Animal Wellness Magazine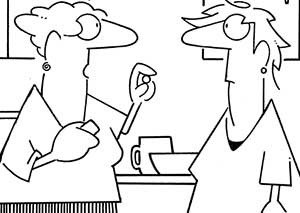 "I hide my cat's pill in a little piece of cheese. That's also how I get my husband to eat peas and lima beans."
Copyright © Randy Glasbergen
Trivia
How many toes do guinea pigs have?
See the answer below.
What Year Was It?
Central High School Integrated
Under escort from the U.S. Army's 101st Airborne Division, nine black students enter all-white Central High School in Little Rock, Arkansas.
The day was Sep 25. What year was it?
Quote of the Week
"The better I get to know men, the more I find myself loving dogs."
Charles de Gaulle
Trivia Answer
How many toes do guinea pigs have?
Answer: Guineas pigs have four toes on each front foot and three toes on each back foot.
SUBSCRIBE TO OUR NEWSLETTER
NEWSLETTER ARCHIVES