Oct 18, 2017
Find Your Best Bedroom Layout with a King-Sized Bed
We spend approximately one third of our lives sleeping, so it goes without saying that our bedrooms are an important room in our homes. They're also storage areas and often working spaces as well, creating layout issues ...
Apartment Therapy
Find Your Style: A Decorating Quiz
We all have a décor we're drawn to—one that feels comfortable to live with day to day. Sometimes we know what it is, sometimes ...
Boulder County Home & Garden
Season of Style Rebate
Choose Hunter Douglas shades!
Season of Style Savings Event
(September 16-December 11)

All About Interiors
Statement living rooms
Whether you've got a separate cosy living room, or a living area that links to other parts of your home, ensure you make it a space ...
Real Homes Magazine
Best Laid Plans
To lay out flooring with a repeating tile pattern takes careful planning, and these days, it's not just ceramic or stone tile that has ...
Extreme How-To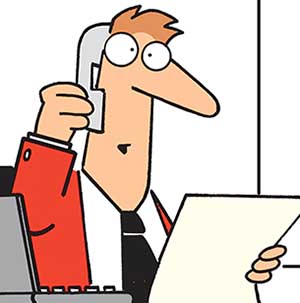 "This home practially pays for itself. It's located on a very windy street, next to an ATM machine!"
Copyright © Randy Glasbergen
Trivia
What president's ghost is said to haunt the White House?
See the answer below.
What Year Was It?
Congress Investigates Reds in Hollywood
The notorious Red Scare kicks into high gear in Washington, as a Congressional committee begins investigating Communist influence in one of the world's richest and most glamorous communities: Hollywood.
The day was Oct 20. What year was it?
Quote of the Week
"It ain't over 'till it's over."
Yogi Berra
Trivia Answer
What president's ghost is said to haunt the White House?
Answer: Abraham Lincoln
SUBSCRIBE TO OUR NEWSLETTER
NEWSLETTER ARCHIVES